Elval Colour Orofe® in Zhengzhou Airport in China
---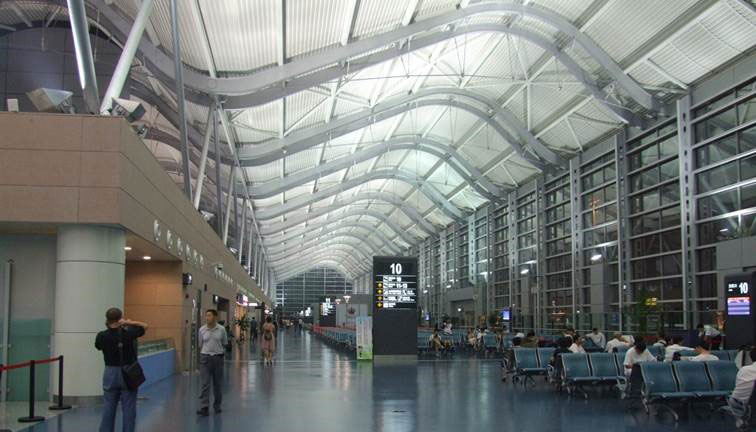 Elval Colour was selected by the architectural team of the new airport in the city of Zhengzhou, China for the supply of more than 1,100 MT of coated rolled aluminium, used to shape the 400,000 square-meter metallic roof of the new airport. The specially-made 1mm aluminium alloy AA 5754 was coated with a 2L PVDF coating, which was tailor made to the architects' specifications.
The innovative material was selected based on the forming and bending requirements of the building, whose aerodynamic appearance is defined by modern construction design and innovative materials, thus raising the bar for the aesthetic appearance of airports across the world.
The Orofe® series is a special range of alloys developed by the metallurgical department of Elval, the parent company of Elval Colour. Orofe® alloys have been designed to cover the most demanding forming and bending requirements for metallic roofs used in industrial, commercial and residential buildings. Orofe® coils and sheets are available in a large range of coatings and colours that satisfy the strictest warranty requirements and provide an aesthetic solution for the most demanding tastes.
Zhengzhou city in China has achieved an impressive rate of development, transforming from a quiet village to a rapidly developing metropolis. Given China's strategic focus on airport construction as a key development pillar, cities like Zhengzhou will require industrial and service clusters for their support and growth. The development of the new Zhengzhou airport is expected to transform the local community and immediate surroundings to an airport-based economy or what is called "aerotropolis," supporting the city's objective to become the new logistics air-hub of China. Local manufacturing plants are expected to benefit from the connectivity and mobility generated by the new airport, as well as the availability of sophisticated logistics services.
February, 2015
About Elval Colour
Elval Colour offers a full range of services related to the products it manufactures such as aluminium composite panels, zinc composite panels and pre-painted sheets and coils. The company offers a complete range of products and solutions for building envelope applications, including perforated and corrugated sheets. From Orofe® coated aluminium coils for roofing , Ydoral® rain gutters, flashings, roller shutter applications to Elval ENF Corrugated sheets, Elval ENF Perforated coils and sheets, Elval ENF solid façade cladding and etalbond® Composite panels. The company manufactures and sells a complete range of products in coated aluminium to meet all building envelope requirements. Elval Colour is a member of the European Aluminium Association (EAA), European Coil Coating Association (ECCA) and is ISO 9001:2008 and ISO 14001:2004 accredited.
The company's products are offered in a wide range of standard and custom made colours made in its own colour mixing lab and applied in one of the four coating lines to match any customer/project requirement. With a full package of products and solutions the company aims at enhancing architectural vision by creating innovative and creative architectural spaces.